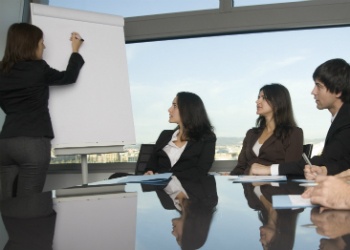 I remember seeing a sign in a cartoon, "For Customer Service – go to Helen Back." When you read that out loud, you will get it. I am sure it was meant to be funny but maybe there is some truth in humor. It really makes you wonder "Is that our policy?" Customer Service protocols and guidelines can be formalized in writing, shared with all employees and have a primary focus of "Customer First".
Long-Term Care Customer Service
Customer Service in the LTC Business Office is actually pretty hands-on and easy to accomplish. While technically, anyone who crosses the threshold is a customer, our residents and their family members are the primary customers. They all want the same thing…exceptional care of their loved one and peace of mind. They get that from everything that happens at the facility starting with good friendly nursing care, flavorful food, social activities and engagements and the sense that we are a team taking care of any potential needs that we can anticipate.
Making the decision to choose Assisted Living, Skilled Nursing or Home Health/Hospice care is not an easy one. Many factors impact that decision and the emotional costs are sometimes the hardest to manage. Primarily the Business Office handles the "paperwork" and helps ensure that any charges are billed properly to payers, statements are correct, resident monies are managed properly, among other tasks. Those tasks are all part of our internal processes and procedures. What may not be part of our process is the human touch in the Business Office.
How do we accomplish good customer service in the LTC Business Office?
Is the Business Office easily accessible? What are the hours of operation? Can family members connect with Business Office staff at lunchtime or does the office close for an hour? Can they connect at least one evening per week for those who work? Does someone "live" answer the phone or does it go automatically to voicemail?

Do residents and families understand the payment terms at your facility? Statements are mailed on the X day each month. Payment is due on the 5

th

business day of each month. Do you offer alternate forms for payment such as credit card, ACH, etc.?

Do residents and family members know the names of the individuals in the Business Office? Is there a listing available to new admissions? Does staff of the Business Office have Business cards that offer the contact information including email address? Are Business Office staff introduced to new families at the time of admission or at least make it a point to introduce themselves to every resident?

Are calls to the Business Office returned in a timely manner? 24 hours or less would be the best practice.

Does the Business Office perform insurance eligibility verification prior to Admission for new residents to help ensure that payers are identified correctly from the get go? Is there due diligence once a month to identify any changes that could impact collection of revenue and issues with family members? Verifying the correct payer is the foundation of the Revenue Cycle process.

Does the Business Office work with other facility staff to assist any residents/families with the Medicaid application process? Is there a family night with speakers, handouts that describe the Medicaid program, complimentary copies made as needed, etc.?

Is the staff of the Business Office overwhelmed and responding to requests from residents and families with a scowl in their voice or literally on their face? You should be able to hear the smile in a person's voice when speaking on the phone. Can you hear a smile in the phone voice of your Business Office staff?
These are just a few of the questions that can be asked as you look at how service oriented the Customer Experience is with your Business Office staff. Take a step back and view the experience of your residents and family members through their eyes. Every experience is a learning experience.