---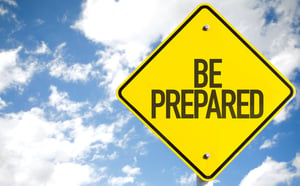 As part of a long-term post-acute care (LTPAC) facility's regular risk assessment, leadership and staff should collaboratively develop written emergency preparedness plans to prepare for and respond to an array of disasters and crises—including epidemics and/or pandemics.
Enter the coronavirus (COVID-19), which has rocked the LTPAC landscape during 2020. While its effects are wide-ranging and profound, COVID-19 has exposed a particularly glaring hole in many facilities' disaster preparedness plans: personal protective equipment (PPE).
We're all aware of the acute PPE shortage that continues to plague skilled nursing facilities, long-term care facilities, home health and hospice agencies and hospitals. This problem may persist indefinitely; but even if it subsides, it should serve as a stern warning for healthcare organizations to integrate specific PPE strategies into their overall disaster plan.
In this regard, your plan's PPE strategy should be four-fold:
Establish emergency PPE par levels to help ensure that adequate supplies are set aside for an emergency situation or large-scale crisis. To determine acceptable levels, first inventory your current PPE stockpile, including PPE set aside for emergencies; then determine levels needed during a worst-case scenario; and finally, order PPE so that you can meet non-emergency and emergency/crisis needs.
Additionally, it's imperative to establish a separate location for emergency PPE supplies (away from every-day PPE supplies) and limit access so that supply levels aren't compromised.
Make sure valid contracts are in place for emergency/backup PPE distributors, and keep that information easily accessible to all stakeholders during an emergency/crisis. LTPAC facilities already are mandated to have backup plans and distributors for things like water, heating/cooling and more. Now is the time to include one for PPE so that if your regular distributor isn't available or reliable during emergencies – or if your facility is located in an area where a physical emergency occurs and you can't get supplies from someone – your backup distributor (or distributors) is in place. Two important points to consider:
Up-to-date contact information for backup distributors should also be clearly available in the written plan.
Your facility's backup PPE distributor (as well as other backups) should be located in a different geographical location than your facility or facilities. If, say, a hurricane impacts your facility, you don't have that same storm shutting down your emergency distributor.
Make sure your facility's administrators and staff leaders are aware of the plan and regularly trained on it. Training for the entire leadership team should be held annually (at a minimum) and should cover access usage/rules and more.
Revisit the plan annually – all elements of it. Analyze the plan with a critical eye to make sure it's still relevant; it's still comprehensive; and all contacts (i.e., emergency PPE distributors) are all still operational and accessible via the contact information listed. This last point is critical: Assuming a distributor is available during a crisis, then finding out they're out of business or inaccessible when you need them, is an entirely avoidable problem.
Generally speaking, PPE hasn't traditionally been a component of most facilities' disaster plans. Yet, COVID-19 is far from over, and with 18 other bacteria and fungi on the Centers for Disease Control's (CDC) watch list, PPE will remain an issue for facilities well into the future. Planning ahead to ensure adequate levels of PPE at all times is one more way you can keep everyone – staff, residents and their loved ones – safe and healthy.
For more information about LTPAC disaster planning, check out our recent webinar, "Disaster Preparation for SNF Facilities."
To aid you in promoting infection prevention and control and other issues surrounding COVID-19, we have developed a COVID-19 Resource Center for skilled nursing facilities which will be regularly updated with the latest information.
Contact Richter's Skilled Nursing Facility Consultants
Do you have questions about disaster planning, ensuring adequate PPE supplies in your skilled nursing facility or other LTPAC clinical challenges? Call Richter's skilled nursing facility consultants at 866-806-0799 to schedule a free consultation.
Want to stay on top of the ever-changing LTPAC industry? Follow us on social media: