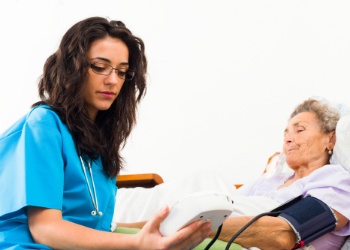 Is there a home healthcare provider who has not had to deal with that employee who had his/her client sign a week's worth of documentation for services that they did not provide? Usually the agency does not discover that fraud was committed by an employee until weeks, months or even years later, often after the services have already been billed. Very few agencies knowingly commit fraud but unfortunately it happens with service provision that relies solely on paper documentation. It is because of incidences like this that the Affordable Care Act included mandates for states to take measures to reduce fraud and overpayments by focusing on prevention rather than the traditional "pay and chase" model of catching those who knowingly or unknowingly commit fraud. With this goal in mind, many states implemented mandatory electronic visit verification (EVV). If you are in a state that does not yet have mandatory EVV, don't worry because it will be coming soon!
Electronic Visit Verification (EVV)
EVV was created to help cut down on fraud and to ensure that consumers receive services as billed. Although the cost of fraud is high, estimated to be close to $75 billion annually, the cost to the patient who is not receiving the services that they so desperately need, far outweighs any dollar amount.
In January 2014, Illinois became the first state to mandate the use of EVV. Since that time, at least 15 other states have either mandated or encouraged the voluntary use of EVV. Types of EVV technology include cell phone GPS, tablet based digital signature with time and date stamping, biometric recognition and electronic random number generation matching devices.
Many industry leaders believe that EVV will eventually be mandated nationwide as evidence by the growing number of EVV service providers that have entered the marketplace. States appear to be taking two different approaches when implementing EVV. States are either opting for a taxpayer funded, single vendor which providers can use without a fee or one that is standard based which allows providers to use whatever standard based EVV meets their needs. States like Ohio are having difficulty finding a single vendor that can address needs of providers statewide. Mandatory implementation in Ohio, was slated for July 2016, but to date, not a single vendor has been located. For providers, a single vendor adds the additional concern of having to use an EVV system that may not be compatible with their agency software.
The EVV Workgroup for the Home Care and Hospice published a standard for verification of visits. Their standard listed that at a minimum, EVV systems should have:
The ability to record the exact date services are delivered;

Record the exact time the services begin and exact time the services end;

Verify the telephone number or location from which the services are registered;

Include a mechanism to verify whether their employees are present (e.g. at the beginning and end of a visit) at the location and time where services are to be provided for the recipient;

Require a personal identification number unique to each caregiver and, if appropriate, a unique password established by said caregiver;

If required by a State or other jurisdiction, the system must have a proven biometric identification system for purposes of identifying the caregiver beyond the entry of a personal identification number and/or unique password;

Be capable of producing reports of services delivered, tasks performed, recipient's identity, beginning and ending times of service, date of service in summary fashion that constitutes adequate documentation of service;

The system must be HIPAA compliant;

The system must insure at least daily back-up of all data collected;

Due to the mission critical nature of such a documentation system, it must demonstrate a viable disaster recovery mechanism allowing for its use within 12 hours of any disruption to services, subject to exceptional circumstances such as war and other disasters of national scope
So in summary:
The Good:
EVV reduces the possibility of billing errors and payroll errors and potential fraud.

No shows can be quickly addressed so that a client does not have to go without service.

Speedier reimbursement by not having to wait for paperwork to be brought into the office for processing.

Potential cost savings due to not having to do unit verifications prior to submitting claims and during chart audits.
The Bad
Another unfunded mandate because even in states that are providing a free service, staff and clients still must be trained.

Employees who work for multiple agencies might need to learn multiple systems.

If your State adopts a single vendor, it may not integrate with your agency software.
Whether mandated or not, EVV is just smart business and necessary. No agency wants to knowingly submit claims for services that were provided but are at a lost when it comes to preventing this from happening. EVV electronically verifies the date, time and location of the visit being documented. In addition, providers can be alerted to no shows in enough time to send a replacement, which is a huge benefit to clients. In homecare there is a saying that if it is not documented, then it did not happen. With EVV, agencies can bill with the assurance that they are only billing for services that were actually provided.
Want to stay on top of the ever-changing LTPAC industry? Follow us on social media: