---
How the Right Technology Can Help Your LTPAC Optimize Revenue Cycle Management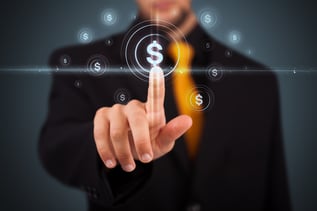 All long-term post-acute care (LTPAC) organizations must generate revenue in order to pursue their mission and grow. Yet, generating revenue by itself is not enough; your organization must also collect the revenue while minimizing leakage and potential lost dollars. That's where revenue cycle management (RCM) comes into play.
RCM tracks client revenue from admission/registration through collection of accounts receivable balances. The cycle includes the universe of administrative and clinical functions in an LTPAC organization that contribute to the capture, management and collection of patient service revenue.
If you seek ways to boost profitability and enhance outcomes, optimizing RCM is a prime place to start. In this blog, we explore how applying the right technology toward strategic ends can help your LTPAC optimize revenue cycle management at every stage of the process.
Using technology…seems obvious, right? Well, for LTPAC providers, barriers to effective technology adoption run deep, and two primary factors are driving it:
1. Systems designed and used in silos
Technology for many LTPAC providers often is a euphemism for "different systems"—and that causes difficulties on many fronts. Distinct billing systems, clearinghouses and more are designed to operate separately, and while some integration exists, they're the exception, not the rule. Consequently, distinct skill sets are required for each technology solution, and valuable time often is wasted managing data or transferring it manually from one system to the next.
Thankfully, some billing and software systems now feature application programming interfaces (APIs) with strong technological capabilities and utility across a health care or LTPAC enterprise. Acute-care providers of all sizes currently are working in fully integrated systems. LTPAC providers tend to lag hospitals in terms of technology adoption. The reasons are varied, but generally, we find it's traceable to a lack of understanding and appreciation for the ROI of automated solutions. That said, many are beginning to take a hard look at what's now available. We believe you should too.
2. The relentless drive toward automation
Modernization for LTPAC RCM has long been overdue. In fact, many LTPACs have resisted it for years, claiming that costs associated with acquisition, integration and training were too high to bear. All that's changing now in a big way. Some industry watchers estimate that up to 80 percent of LTPAC billing and financial work flow will be automated within the next several years.
Today, automation is here; it's being utilized throughout the LTPAC spectrum; and it will be a crucial driver of RCM at every stage of the process in very short order. If you haven't yet optimized automation within your RCM work flow, it's time to begin. By automating selected RCM processes effectively – for example, the intake process, cash management and denial management – and putting the right people in place to ensure quality control, your LTPAC can operate more efficiently and profitably; employees will be more engaged in meaningful work they actually enjoy; and clients and their loved ones will receive timely and relevant information they need—with no surprises when the bill arrives.
If there's one lesson here, it's this: Utilizing technology can boost productivity—not replace it. We encourage you and your colleagues to investigate it and visualize ways that it can positively impact your RCM process, from pre-admission and admission to billing, family and staff engagement initiatives and more.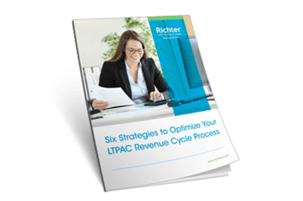 Contact Richter
Do you have questions about optimizing your RCM process through strategic use of technology, or other RCM challenges? Read our e-book, "Six Strategies to Optimize Your LTPAC Revenue Cycle Process" or call Richter's revenue cycle management consultants at 866-806-0799 to schedule a free consultation.
Want to stay on top of the ever-changing LTPAC industry? Follow us on social media: