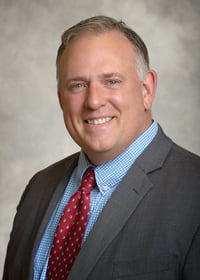 Richter is pleased to announce the appointment of Kenneth Voll, RHIT, as Director of Revenue Cycle Management.
In this position, Ken is responsible for overseeing Richter's global revenue cycle management process and evaluating its impact on clients and staff through process improvement, relationship management and revenue cycle metrics. Richter's customized revenue cycle management solutions are designed to help clients maintain a positive financial position by managing the entire accounts receivable process, from intake through collection of revenue.
"Ken is a highly experienced and widely respected revenue cycle management and health care IT professional with a demonstrated record of success throughout his career," said Jennifer Richter, President and CEO of Richter. "He will be instrumental in optimizing our people, processes and solutions to deliver results for clients that truly enhance outcomes. We are delighted to have him join our team."
"The health care industry has fundamentally shifted from a fee-for-service payment model to one based on quality of care, and today's senior living organizations are challenged like never before to adapt," said Ken. "As the industry leader in revenue cycle management consulting, Richter is uniquely positioned to help clients navigate these challenges and attain new levels of performance in this vital area. I look forward to working closely with our clients, professionals and staff to make a real difference."
Prior to joining Richter, Ken worked as a consultant with several national firms. He is certified as a Registered Health Information Technician through the American Health Information Management Association (AHIMA) and received his Associate degree in Applied Science from the University of Cincinnati. He also serves as a board member of both the Ohio Health Information Management Association and the Ohio Council of Home Care and Hospice.
About Richter
Led by a CPA and staffed with a team of over 70 experienced and caring professionals, Richter is the trusted industry expert in clinical, financial and Medicaid consulting, healthcare accounting, EHR/PointClickCare® implementation and revenue cycle management. We continually review the latest regulatory issues to keep our clients up to date on changes and best practices that affect the operational efficiencies and outcomes of LTPAC providers nationwide.
Richter serves the entire LTPAC spectrum—from small and midsize organizations through large, multi-facility, multistate groups. Whatever your clinical, accounting, implementation and revenue cycle challenges may be, Richter's trusted and experienced professionals deliver fully customized solutions to Enhance Outcomes in all the ways that matter.