In 2015, the Centers for Medicare and Medicaid Services (CMS) introduced the Probe and Educate (PE) strategy, first to hospitals and then to home health care agencies. With this new strategy, five claims were selected from every hospital and home health care provider. If a claim was denied, one-on-one education was offered in an effort to prevent future errors.
Targeted Probe and Educate (TPE) is a result of the positive outcomes that were generated through the PE strategy. Although hospice agencies were not included in the PE strategy, TPE was expanded to all Medicare service providers in October 2017. Unlike other strategies, with TPE, your agency will only receive an Additional Development Request (ADR) if it is shown through data analysis that you may be doing something improperly which could result in an improper Medicare payment.
Related Blog: Medicare Medical Review Strategies
How does TPE work?
Through data analysis, the Medicare Administrative Contractors (MACs) can identify: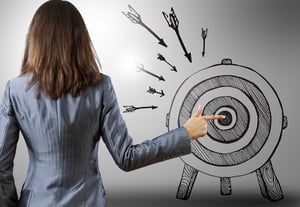 Providers and suppliers that have high claim-error rates or unusual billing practices, and
Items and services that have high national-error rates and are a financial risk to Medicare.
Generally, the TPE process encompasses three potential rounds (also called probes):
Initial Probe
During the initial probe, you as a hospice agency can expect the following:
Provider notification, which includes a stated reason for review. In other words, you will receive a letter from your MAC. To view a sample notification letter, please refer to our Conclusion and Resources section.
The MAC will review between 20-40 of your claims and supporting medical records.
If compliant, you will not be reviewed again for at least one year on the selected topic.
A results letter that will offer an invitation to one-on-one education if some claims are denied.
You will be given at least a 45-day period between each probe in order to demonstrate improvement following the individualized education.
Providers found to be compliant will have their participation in TPE discontinued for at least 12 months. If a hospice agency continues to have a high payment error rate (i.e., above 15 percent), then rounds two and three consist of:
Receipt of an ADR approximately 45-56 days after education
Validation
Calculation
Results letter
One-on-one education
Referral (if applicable)
The majority of participants in the TPE process have been shown to increase the accuracy of their claims. Providers found to be noncompliant after all three rounds will be referred by the MAC to CMS for potential additional actions that include:
Extrapolation
Referral to a Zone Program Integrity Contractor (ZPIC), Unified Program Integrity Contractor (UPIC) or the Recovery Audit Contractor (RAC)
Other actions
Common Claim Errors
The signature of the certifying physician was not included
Encounter notes did not support all elements of eligibility
Documentation does not meet medical necessity
Missing or incomplete initial certifications or recertifications
Hospice Risk Areas
Your hospice may be at higher risk for improper Medicare payment if your agency is performing at or above the 80th percentile for any PEPPER (Program for Evaluating Payment Patterns Electronic Report) target area. MACs may individually choose additional topics that are related to PEPPER target areas and other risks.
Targeted PEPPER areas include:
Live discharges revocation
Live discharges of not terminally ill
Routine home care in skilled nursing facility
Live discharges (61-179 days)
Routine home care in assisted living facility
Claims with a single diagnosis coded
Long length of stay (>180 days)
No general inpatient care (GIP) or continuous home care (CHC)
Contact Richter Healthcare Consultants:
Do you have questions about TPE, or other clinical challenges? Read our Targeted Probe and Educate for Hospice Agencies e-book or call Richter's clinical education consultants at 866-806-0799 to schedule a free consultation.
Donna Berry is the Revenue Cycle Manager for Home Health and Hospice with Richter Healthcare Consultants.

Want to stay on top of the ever-changing LTPAC industry? Follow us on social media: