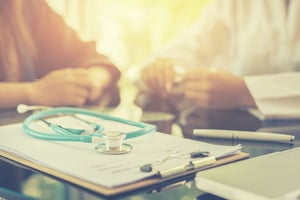 In the months leading up to October 1, 2019, providers across the long-term post-acute care (LTPAC) spectrum have been very busy preparing for PDPM for Medicare A residents. We at Richter have as well, as we've been training, updating software, adjusting processes and planning our strategy for the biggest change in reimbursement in over 20 years. The good news: It's finally here! The bad news: There is no real direction on what to do about Medicare Advantage plans.
As we all know, no matter how hard we try, payer information can be wrong. If you think that a resident is on a Medicare Advantage Plan upon admission and a month down the road, you find out they are classified under Traditional Medicare A, you will be in a world of hurt if you did not complete the Medicare A assessments. This is why we recommend that you complete the PDPM 5-day assessment on all Medicare and Medicare Advantage skilled residents. Although this will be a PDPM 5-day assessment, you will still be able to see the RUG-IV at the top of each assessment if needed by the Medicare Advantage Plan. If you are not using PointClickCare®, call your software vendor to see if you have this option available.



*This information is from a training database and is not an actual resident.
This graphic shows a "Reason for Assessment" box that has been completed with an ARD of 10/2/19. Follow the steps below for completion on an admission and PDPM 5-day combined assessment.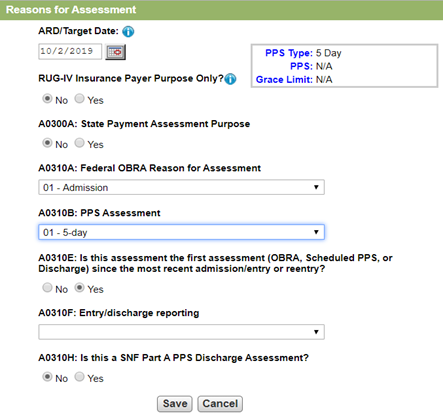 1. Enter the assessment reference date (ARD). Assessment must be opened up to and including the date of the ARD. If an assessment is opened after the ARD, you will be paid the default rate through the date that the assessment was identified as missing and subsequently opened.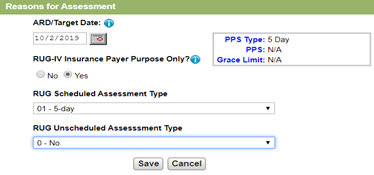 2. Enter "No" in the radio button for RUG-IV insurance payer only. If you choose "Yes", you will no longer have the option to complete a PDPM 5-day assessment.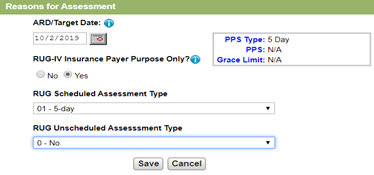 3. Enter "No" in the radio button for State Payment Assessment Purpose. If you choose "Yes", you will no longer have the option to complete a PDPM 5-day assessment.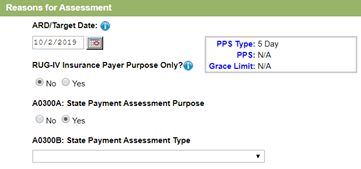 4. Enter "01 – Admission" for A0310A: Federal OBRA Reason for Assessment.
5. Enter "01 – 5-day" for A0310B: PPS Assessment
6. Enter "Yes" if this assessment is the first assessment (OBRA, Scheduled PPS or Discharge) since the most recent admission/entry or reentry.
7. Enter "99 – None of the Above" if not combined with a discharge tracker.
8. Enter "No" if this is not a SNF Part A PPS Discharge Assessment.
Following these steps for each of your Medicare and Medicare Advantage skilled residents will keep you in compliance and help to avoid any default payment for payer changes. Historically, January 1 is one of the busiest times for insurance providers and it is when you will potentially see the most changes for Traditional Medicare to Medicare Advantage Plans, and vice versa. Make a plan now on how you will monitor for those changes because the new year is just around the corner!
Note: There was another change that you should be aware of in PointClickCare. Assessment information will now be pulled over to the Admin module from locked assessments (in the past it had to be accepted before flowing to the Admin module). You will be able to pull this information onto claims and therefore perform your triple check prior to the assessment being transmitted and accepted. That being said, you need to have a system in place to ensure that the assessment was ultimately submitted and accepted in the correct time frame AND that there were no changes made to the assessment prior to that final acceptance on the validation report. If any changes needed to be made that affected the HIPPS, then the claim will need to updated.
Contact Richter
Do you have questions about Medicare Advantage Plans under PDPM, or other LTPAC clinical challenges? Call Richter's clinical education consultants at 866-806-0799 to schedule a free consultation.
Jennifer Leatherbarrow RN, BSN, RAC-CT, IPCO, QCP, CIC, is Manager of Clinical Consulting for Richter.