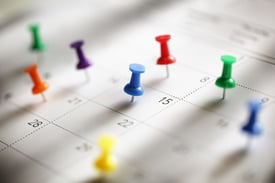 The life cycle of the business office in long-term post-acute care (LTPAC) settings is a science if you get it right—and a science experiment gone horribly awry if you don't.
Process is the key word to success when it comes to managing your accounts receivable; but the wheel going round and round has to make sense and includes many moving parts outside of your control—hence the reason it is so important to have a work flow!
Understanding Daily, Weekly and Monthly Business Office Work Flow Tasks
Daily:
Update census in your billing system and reconcile: if you are not producing a written report of your census by payers and including your Admissions, Readmissions, Discharges, Payer changes and LOAs, you cannot successfully bill. Ensuring there is a process with your clinical team which includes utilizing a 24-hour nursing report and collaboratively discussing changes to admissions in your daily stand-up meeting is crucial for accuracy.
Deposits and Cash Receipts: how often are you making deposits? Unless your company policy and procedure states differently, it should be daily. Cash is always king, and you cannot have efficient collection follow-up or claim denial management if you don't know what the accurate balance should be. Striving for electronic funds transfer and electronic remits with your clearinghouse will help make you more efficient with quicker payments and denial management capabilities.
Denial management of your claims should be an ongoing process throughout the month. While you may have specific weeks where you focus more on the denial management function, it is imperative to respond to denials and zero pay remits as they come through for quick resolution.
Weekly:
Census should be reconciled daily and weekly; often, there are payer changes that happen after the fact and can be missed from a reconciliation standpoint during your day-to-day operations. Going back a month later to try and determine why census doesn't balance is not acceptable. Communication with your core management team is a must!
Making sure your payers and rates are set up correctly and completely so that accurate and timely statements can be generated with the correct reimbursement rates.
Utilizing reports within your billing system such as AR aging reports, cash receipt reports and census reports will help you to manage and monitor your revenue cycle process on an ongoing basis.
Monthly:
Month End Close: this should include ancillary entry, revenue testing and all required month-end reports.
Billing: this should include Triple Check of Medicare and managed care claims, submission of claims and the complete billing cycle.
Monthly cash and census reconciliation: this should be done to help ensure that what has been entered in your billing system is accurate and your source documents support these entries.
Do you have questions about optimizing business office work flow throughout your LTPAC organization? Call Desiree Gordon at 440-605-7256 to schedule a free consultation.