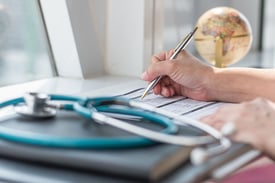 Wouldn't you hate to work hard all day, every day, only to have your employer tell you that you messed up and the paycheck you just received had to be turned back over to them? That is exactly what could happen to many long-term post-acute care (LTPAC) facilities in the case of an audit due to the status of the certification/recertification for skilled services.
According to the Centers for Medicare and Medicaid Services (CMS),"A major source of improper payments stems from SNFs' failure to obtain certification and recertification statements from physicians or NPPs" per the MLN Matters Number SE 1428. Denials and additional document requests (ADRs) often are the first sign that enables a facility to identify that it has an issue. Unfortunately, it's too late at that point. If a cert or recert lacks any of the required elements and is the cause of a negative audit outcome, there is no ability to appeal the denial/recoupment on this basis alone. With that in mind, I refer to certs and recerts as "golden tickets" because without complete accuracy, payment can be revoked and not recovered through appeal channels.
Certs and recerts have specific requirements that must be complete in verbiage as well as dates. Many facilities assign staff the task of cert/recert completion; yet, many staff members do not understand the requirements or ensure the requirements are met with each skilled stay. Specificity for all skilled services for which the person qualifies (e.g., physical therapy, occupational therapy, speech therapy), as well as nursing, should always be included. After all, if you don't include nursing, why are residents in your facility? They can have therapy at home.
Cert and recert requirements include:
A statement identifying the skilled services that are required by skilled staff during an inpatient stay

Estimated length of skilled services (generally listed as 30 days unless otherwise known)
The discharge plan (e.g., home with home health)
Whether the reason for a continued need for services is a condition that arose after admission to the SNF (and while being treated for an ongoing condition for which the individual received inpatient care in a hospital). This must be indicated.
Specific intervals in which the cert/recert must be signed and dated by the attending physician
Safeguarding the original "golden ticket" after final review during the Triple Check process should be considered. The original signed/dated cert/recert can be uploaded or scanned into many electronic health records (EHRs). I prefer to give this precious copy to the finance department/ business office for inclusion in the financial file of the resident. These files are generally easier to locate, and with fewer people handling them, there is less chance to lose this irreplaceable and non-appealable skilled payment requirement.
Richter can also provide comprehensive Triple Check training for you and your staff. Call Desiree Gordon at 440-605-7256.