---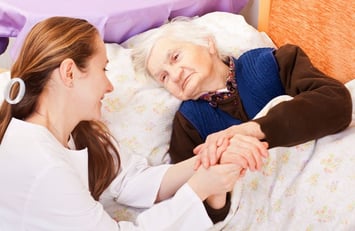 If you own or operate a home health or hospice agency, you know just how vital the services you provide are to the health and well-being of your patient. Likewise, you no doubt understand that maintaining the sound financial health of your organization helps ensure that this care can continue to be delivered into the future.
For home health and hospice agencies, optimizing revenue cycle management is key to achieving this. And while agencies come in all different shapes and sizes, most personnel handling financial duties – including registered nurses (RNs), licensed practical nurses (LPNs), office staff and more – are hard-pressed to find even a minute of free time, day in and day out. It's all they can do to simply perform the basic requirements of their jobs, let alone devise and deploy industry best practices to optimize revenue cycle billing and other financial processes.
That's where outside home health consulting and hospice consulting firms can deliver great value. At Richter, we've provided the nation's leading home health and hospice revenue cycle management consulting services for more than two decades. Our revenue cycle consultants have deep backgrounds in home health and hospice care, skilled nursing, senior living, accounting and finance. Through individual and collective experiences, we've witnessed first-hand how outsourced consulting and implementation services can help home health and hospice agencies not only survive, but thrive. Below are seven key benefits that we believe make experienced and reputable consultants a smart move to consider for your organization.
Experience, expertise and resources. Qualified home health and hospice consultants offer a depth and breadth of experience and expertise operationally—and they can also help your organization meet regulatory and compliance demands amidst an evolving regulatory landscape. With the new PDPM payment model now a reality, respected outside revenue cycle consultants are well-versed on the latest PDPM rules and procedures. This takes the burden off of you and your people to understand the intricacies of this new billing structure.
The new PDGM billing model presents yet more challenges to home health agencies. Qualified outsourced home care consultants can handle your agency's billing under this new model efficiently

,

effectively

and

compliantly

.


Additionally, with the coronavirus (COVID-19) situation continuing to evolve by the minute, outsourcing can help ensure that your billing is completed in a timely and uninterrupted fashion. By utilizing an experienced outsourced home health consultant, you won't have to worry about covering for sick employees or employees who must tend to loved ones and family matters.
Hospice agencies face similar challenges. The proposed Medicare FY 2021 budget reduces hospice reimbursement by $10.00 per day for those beneficiaries in nursing homes. If approved, this will impact your bottom line. Your hospice agency may not be ready for that today, but by acting now to reduce your expenses with the help of an outside RCM consulting firm, you could potentially reduce negative impacts down the road.
Ask nearly any nurse, and they'll say, "Why do I have to handle such a large volume of administrative work? All I want to do is take care of patients." By spending less time learning how to bill properly and compliantly and performing back-office administrative work, RNs and LPNs can focus real quality time on delivering excellent patient care. Hiring the right outside consulting firm can make that happen.
Hidden value beyond core revenue cycle management competencies. Outside home health and hospice consulting firms often identify and recommend valuable process improvements to their clients as a result of their past experiences in similar settings. You'll gain all the benefits of their experience without taking on full-time overhead.
Additional help and resources if and when needed. The industry's top home health and hospice consulting firms offer subject matter experts in all lines of care—not just home health and hospice. As a result, that organization offers tangential consulting services (e.g., clinical, Medicaid, implementation, financial, accounting) that provide holistic organizational benefits.
Standard fees for budget certainty, or customized services as needed—your choice. Outsourced home health or hospice revenue cycle management services can be priced based on a standard monthly fee to help your organization manage its budget effectively. They can also be 100% customized to meet specialized needs, such as handling pre-claim check reviews.
A reliable source of training and education for you and your staff. Some home health and hospice organizations look to outside consultants to help train staff—be it in all phases of revenue cycle management, billing, how to conduct a pre-claim check review or other areas. Again, you get the benefit of that consultant's expertise and experience at a fraction of the cost of full-time overhead.
Cost savings on several levels. This includes salary and benefits, which often is a primary expense for home health and hospice agencies.
Accountability.Home health and hospice consultants from established and respected providers are accountable not only to your organization, but to their employer. This double layer of accountability serves everyone well; to you, it provides peace of mind that the consultant is meeting her/his obligations. To the outside provider organization, the consultant's solid job performance underscores the value of their services and strengthens their reputation in the marketplace.
The Intangible Qualities of Home Health and Hospice Consultants That Make the Difference
Beyond the experience, capabilities and resources that home health and hospice consultants offer, there are three essential intangible qualities that you should look for when considering a consultant for your facility:
Trust. Successful home health and hospice consultants should instill confidence and trust by virtue of their experience, demeanor and personal qualities.
A track record of results. Highly capable consultants have tangibly moved the needle for clients in a variety of home health and hospice settings. When evaluating them, be up front in asking about their work on different project scopes, and the results they achieved.
A willingness to invest in relationship building. Yes, your home health and hospice consultants should focus on addressing the defined work scope; but they should bring a strategic mind-set to the table, be naturally inquisitive, ask questions that give insight on additional areas of potential improvement and show genuine interest in growing the relationship over time.
Contact Richter Home Health and Hospice Consultants
Do you have questions about the benefits of hiring a home health or hospice revenue cycle consultant, or other home health and hospice clinical challenges? Call Richter's home health and hospice consultants at 866-806-0799 to schedule a free consultation.
Want to stay on top of the ever-changing LTPAC industry? Follow us on social media: