---
How the Right Technology Can Help Your LTPAC Optimize Revenue Cycle Management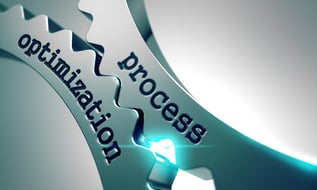 It's no surprise that long-term post-acute care (LTPAC) organizations must generate revenue in order to pursue their mission and grow. That said, generating revenue in and of itself is not enough; your LTPAC must also collect the revenue while minimizing leakage and potential lost dollars. In this regard, revenue cycle management plays a key role.
Revenue cycle management for LTPACs tracks client revenue from admission/registration through collection of accounts receivable balances. The cycle includes the universe of administrative and clinical functions in an LTPAC organization that contribute to the capture, management and collection of patient service revenue.
If you seek ways to boost profitability and enhance outcomes, optimizing RCM is a prime place to start. In this blog, we explain how implementing an effective denial management process can deliver insight you need to rectify issues and promote efficiency.
Most organizations fail to touch a claim after the initial submission. Validating payer acceptance and payment is equally as important as submitting the claim. In this regard, closely examining denials and the denials process provides insight into gaps that exist within your current processes; whether steps are missing or ineffective; and where problems exist throughout the entire LTPAC revenue cycle. As you may expect, this ties closely to your adoption and use of technology and process improvement. With the right technology and proper training on it, your LTPAC will be well-equipped to implement an effective denials management process.
By using your denials as a means to identify where problems reside in the RCM process, you'll have the information you need to correct problems and help ensure efficiency.
To draw meaningful conclusions about LTPAC denials, it's important to know the distinction between non-controllable and controllable denials. Non-controllable denials most often are contractual allowances—i.e., those things that are not allowed to be billed based on payer contracts and must be written off. And normally when you arrive at a net revenue number, they've already been subtracted out.
Controllable denials are another matter. As the name implies, the possibility of control exists—and your ability to do so can mean a world of difference to your bottom line. Today, there is an increased cost to collect every time a denial is received. Even if your LTPAC processes its own billing, denials cause potential revenue to sit on accounts receivable (AR), and potentially be written off.
So, what is an effective LTPAC denial management process? It could be as simple as reviewing all your denials and categorizing them—i.e., is this denial traceable to our front-end process? Is it part of coding or the revenue integrity process? Is it part of our billing process or technical claim data elements (e.g., revenue codes, HCPCS)? Is this something we can fix before it goes out to the payer (note that this could point to erroneous system configuration), or is it something that we must address after it has gone out?
By using your denials as a means to identify where problems reside in the RCM process, you'll have the information you need to correct problems and help ensure efficiency. Additionally, using the identified issues to inform education and process checkpoints can reduce the number of future denials and decrease delays in payment going forward.
Contact Richter's Revenue Cycle Management Consultants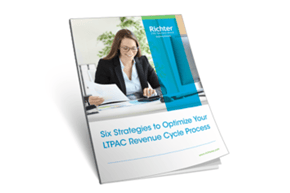 Do you have questions about optimizing your RCM process through implementation of a denial management process, or other RCM challenges? Read our e-book, "Six Strategies to Optimize Your LTPAC Revenue Cycle Process" or call Richter's revenue cycle management consultants at 866-806-0799 to schedule a free consultation.
Want to stay on top of the ever-changing LTPAC industry? Follow us on social media: