---
Accounting and finance professionals are currently in high demand across a wide range of industries, and the long-term post-acute care (LTPAC) industry is no exception. As a result, this makes it difficult for LTPAC providers to attract and retain qualified in-house controllers.
The experience, insights and expertise of a qualified controller are essential to maintaining current quality levels, ensuring profitability, and enabling future growth. So, how do you know if your LTPAC organization is in need of a contract controller? Ask yourself these questions:
Do you suffer from unnecessary losses from bad debt on uncollected revenue, overpayments of vendors, missed revenue, payments not in accordance with contracts or bank fees for poor cash management?
Do you receive fines and penalties for late or missing filings, poor audit outcomes or other infractions?
Are you facing the potential loss of funding from Medicare, Medicaid, banks or other lenders?
Do you have ongoing concern for certain issues such as inaccurate financial performance and position, lack of cash flow to support operations, or relationships with vendors, payers and lenders?
If you answered yes to any of these, contract controller services could be the first step to getting your organization back on the right track. A qualified contract controller, with their high-level financial skills and capabilities, can fill substantial needs for LTPAC organizations large or small. Benefits include:
Experience and expertise operationally
Ensuring your organization meets immense regulatory demands amidst an evolving regulatory landscape
The ability to customize their services to meet your specialized needs
Enormous cost savings over a full-time controller
Potentially tangential consulting services (e.g., revenue cycle management, clinical, Medicare and implementation consulting) that provide holistic organizational benefits
The experience needed to identify and recommend valuable process improvements as a result of past assignments in LTPAC settings
And more
Richter Healthcare Consultants works closely with LTPAC organizations to provide outsourced contract controller services for an array of needs. Now, we have developed an e-book that synthesizes our expertise with regard to all facets of outsourced contract controller services.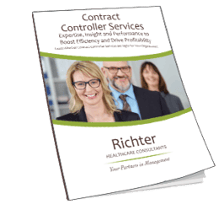 This e-book provides a broad snapshot of contract controller services—what they are, why they're important in LTPAC settings, how they measure up against in-house controllers and what to look for in a contract controller. It is organized as follows:
Chapter 1: The Role of the Controller in LTPAC Settings
Chapter 2: Why a Controller is Important to Your LTPAC Organization
Chapter 3: In-house Controller Versus Contract Controller – Understanding the Benefits of Each
Chapter 4: Could Your LTPAC Organization Benefit From Contract Controller Services?
Chapter 5: What to Look For in a Contract Controller Services Provider
Conclusion and Resources
Learn whether contract controller are right for your LTPAC – download our free e-book today.
Contact Richter Healthcare Consultants:
Do you have questions about contract controller services or other accounting services? Call Richter's healthcare accountants at 866-806-0799 to schedule a free consultation.
Allison Wood is the Marketing Coordinator for Richter Healthcare Consultants.
Want to stay on top of the ever-changing LTPAC industry? Follow us on social media: