Richter Healthcare Consultants, a leading provider of clinical, accounting, implementation and revenue cycle consulting services for long-term post-acute care (LTPAC) organizations, is pleased to announce that Jennifer Leatherbarrow, RN, BSN, RAC-CT, QCP, CIC, has been selected by the American Health Care Association to serve as a 2018 Senior Examiner for the AHCA/NCAL National Quality Award Program.
The program provides a pathway for providers of LTPAC services to journey toward performance excellence. It is based on the core values and criteria of the Baldridge Performance Excellence Program. Member centers may apply for three progressive levels of awards:
Bronze Award – Commitment to Quality
Silver Award – Achievement in Quality
Gold Award – Excellence in Quality
Leatherbarrow is the Senior Clinical Consultant at Richter Healthcare Consultants, working with LTPAC providers nationwide. She is a passionate writer and a speaker at both state and national level. She is an avid proponent of education and providing those on the front lines of healthcare the tools they need to succeed. Leatherbarrow is also a certified trainer for PointClickCare®, the premier EHR platform for LTPAC providers in North America. Richter Healthcare Consultants is a Strategic Alliance Partner of PointClickCare, with over 1,500 successful implementations across the U.S.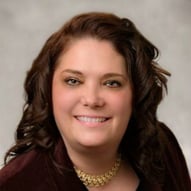 "Jennifer's role as a Senior Examiner for the Quality Awards of the American Health Care Association brings enhanced recognition to the level of expertise within our Consulting Division," said Jennifer Richter, President/CEO of Richter Healthcare Consultants. "We are proud to be engaged in the process of reviewing applicants for the prestigious Baldridge Award."
About Richter Healthcare Consultants
Headquartered in Twinsburg, Ohio, Richter Healthcare Consultants is a professional firm offering clinical and financial consulting, accounting, revenue cycle management and remote corporate management solutions to long-term post-acute care providers nationwide. For more information, visit www.richterhc.com.
Want to stay on top of the ever-changing LTPAC industry? Follow us on social media: