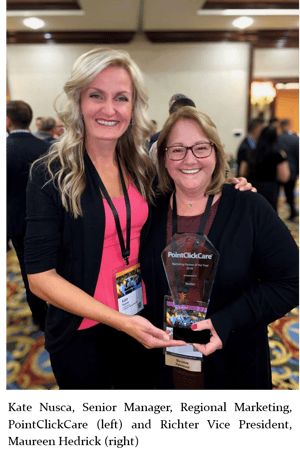 PointClickCare, the leading electronic health record (EHR) technology partner to North America's long-term post-acute care and senior care industry, has named Richter as its 2019 Marketing Partner of the Year. The award recognizes the close collaboration between Richter and PointClickCare on targeted training activities related to Medicare Patient-Driven Payment Model (PDPM).
Richter is a leading provider of clinical, accounting, implementation, Medicaid and revenue cycle consulting services for long-term-post-acute care (LTPAC) facilities nationwide. This achievement acknowledges the dedication of the entire Richter team to help educate LTPAC and senior care providers across the country through the delivery of content and educational training. The award was presented at PointClickCare's annual SUMMIT Conference.
"Richter is a long-term partner of PointClickCare, dating back to 2009," said Jennifer Richter, President and CEO of Richter. "We share the same goals of helping LTPAC and senior care industry providers through technology-driven solutions. Jennifer Leatherbarrow, our Manager of Clinical Consulting, has been instrumental in further strengthening our relationship with PointClickCare this year."
"I was delighted to work with PointClickCare on behalf of Richter and to lead several live training and webinar PDPM sessions," said Leatherbarrow, RN, BSN, RAC-CT, IPCO, QCP, CIC, Manager of Clinical Consulting for Richter. "I credit the entire Richter team for helping me to develop relevant content for our presentations and for sharing work duties so that I could travel and conduct these training programs."
About Richter
Led by a CPA and staffed with a team of more than 70 experienced and caring professionals, Richter is the trusted industry expert in clinical, financial and Medicaid consulting, healthcare accounting, EHR/PointClickCare® implementation and revenue cycle management. We continually review the latest regulatory issues to keep our clients up to date on changes and best practices that affect the operational efficiencies and outcomes of LTPAC providers nationwide.
Richter serves the entire LTPAC spectrum—from small and midsize organizations through large, multi-facility, multistate groups. Whatever your clinical, accounting, implementation and revenue cycle challenges may be, Richter's trusted and experienced professionals deliver fully customized solutions to Enhance Outcomes in all the ways that matter.