This blog is co-authored by Jennifer Leatherbarrow, RN BSN RAC-CT IPCO QCP CIC, Manager of Clinical Consulting Services with Richter, and David LeCours, National Director of CareerStaff Unlimited
Considerable research supports the direct relationship between nursing home staffing levels and resident outcomes. Research also has found a clear association between nurse staffing ratios and nursing home overall quality of care.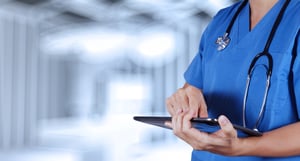 On April 1, 2019, 37 percent of long-term post-acute care (LTPAC) facilities nationwide saw their staffing star rating plummet to a mere one star overnight. This was a direct result of the new RN staffing requirements set by the Centers for Medicare and Medicaid Services (CMS). Previously a facility could have up to seven days without an RN in the building before being penalized. That has now been decreased to only four days before the penalization.
The rating for staffing is based on two quarterly case-mix adjusted measures:
Total nursing hours per resident day (RN plus LPN plus nurse aide hours)
RN hours per resident day
The source for reported staffing hours is the Payroll-based Journal (PBJ). This data is submitted quarterly and is due 45 days after the end of each reporting period. Only data submitted and accepted by the deadline is used by CMS for staffing calculations and in the Five-Star Rating System.
The resident census is based on a daily resident census measure that is calculated by CMS using minimum data set (MDS) assessments.
The daily resident census, used in the denominator of the reported nurse staffing ratios, is derived from MDS resident assessments and is calculated as follows:
Identify the reporting period (quarter) for which the census will be calculated (e.g., CY 2018 Q2: April 1 through June 30, 2018).
Extract MDS assessment data for all residents of a facility beginning one year prior to the reporting period to identify all residents who may reside in the facility (i.e., any resident with an MDS assessment may still reside in the facility). For example, for the CY 2018 Q2 reporting period, extract MDS data from April 1, 2017 through June 30, 2018.
The specific PBJ job codes that are used in the RN, LPN and nurse aide hours' calculations are:
RN hours: Includes RN director of nursing (job code 5)
Registered nurses with admin duties (job code 6)
Registered nurses (job code 7)
LPN hours: Includes LPN/LVN with administrative duties (job code 8)
Licensed practical/vocational nurses (job code 9)
Nurse aide hours: Includes certified nurse aides (job code 10),
Aides in training (job code 11)
Medication aides/technicians (job code 12)
Note that the PBJ staffing data include both facility employees (full-time and part-time) and individuals under an organization (agency) contract or an individual contract.
*The PBJ staffing data do not include "private duty" nursing staff reimbursed by a resident or his/her family. Also not included are hospice staff and feeding assistants.
Although the solution to improve the staffing rating is a simple one – increase the amount of staff – it is easier said than done. Long-term care has a very small profit margin and staffing management has forever been perceived as a necessary part of the equation. Additionally, there is a national shortage of qualified employees in health care. Warning…we are going to jump on our soapbox and try to change the way you think about staffing! Here it is…
FACT: Increasing your staffing will initially impact your bottom line.
FACT: Increasing your staffing will decrease your spending over time and increase revenue.
How does increasing your staffing decrease your spending and increase revenue?
Decreased turnover: Employees tend to stay with an organization when they are happy, and adequate staffing tends to make them happy.
Increased employee retention: This results in decreased costs for employee searches and new employee orientation.
Increased resident satisfaction: This, in turn, can potentially generate increased referral/return business.
Increased quality of care: Again, this can potentially generate increased referrals, increased opportunity for preferred partnerships, increased census and increased employee retention.
Decreased resident incidents and accidents: This can lower costs related to litigation, as well as financial penalties due to a survey citation.
Strategies for managing facility staffing:
Provide adequate orientation to employees upon hire.
Hire the right people.
Use an employee engagement process.
Offer competitive pay and benefits.
Give praise to employees.
Have a contingency plan for staffing emergencies.
Contact Richter
Do you have questions about managing your facility's Five-Star staffing measure or other clinical challenges? Call Richter's clinical education consultants at 866-806-0799 to schedule a free consultation.
For additional information visit:
https://www.cms.gov/Medicare/Quality-Initiatives-Patient-Assessment Instruments/NursingHomeQualityInits/Staffing-Data-Submission-PBJ.html
Jennifer Leatherbarrow, RN BSN RAC-CT IPCO QCP CIC, is the Manager of Clinical Consulting Services with Richter.
David LeCours is National Director of CareerStaff Unlimited.
Learn more about CareerStaff Unlimited.