---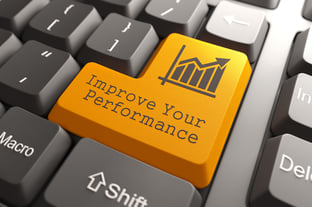 PointClickCare® is a powerful tool to help optimize care and drive positive business outcomes for organizations across the long-term post-acute care (LTPAC) spectrum. Yet while PointClickCare is unquestionably one of the LTPAC industry's most popular and successful electronic health record (EHR) implementation platforms, it is vastly underutilized by many of the LTPAC organizations that rely on it every day.
Why is that? Well, several factors could be responsible. For one, users may not be fully trained on the full PointClickCare experience, or in using various modules. Turnover may also account for underutilization, and certainly, time is a factor, since LTPAC professionals are busy all day, every day. Sometimes, training just takes a back seat to other priorities.
As a result, underutilization of PointClickCare breeds unhappiness with PointClickCare. Given the power of this amazing tool, that should never be the case.
If you administer or use PointClickCare in your skilled nursing, long-term care or senior living facility, ask yourself:
Where does your PointClickCare EHR scorecard rank your facility in terms of utilization percentile?
Are you certain you're getting the most out of your current PointClickCare configuration?
Are you utilizing even basic functions—and if so, are you certain you're utilizing them correctly?
Have you purchased additional modules—and if so, have you integrated them fully into your operation? Have you even used them at all?
At Richter, we're a Strategic Alliance Partner and Certified Training Partner for the entire suite of PointClickCare applications. We believe strongly in this platform—and we know that getting the most out of it means using it to its fullest extent, and integrating it into your processes and work flows.
Many paths can lead to greater utilization of PointClickCare. Below, we've highlighted three standard functions that often are underutilized (or in some cases, not utilized at all), as well as three beneficial add-on modules to consider for integration now or in the future.
Standard PointClickCare Functions
Admin Dashboard. As a feature of PointClickCare, the Administration Dashboard delivers a clear view into multiple areas of the system, such as incomplete census; non-revenue-generating rates; incomplete admission; incomplete assessments; and the authorization portal.
Collections. This module can help you organize your collection efforts, document your work and set follow-up actions. By doing so, you'll be better equipped to document your efforts in an effective way.
Authorization Tracking in the AR Insurance tab. Many users don't utilize Authorization Tracking effectively in PointClickCare. That's a shame, because authorization requirements are one of the most sizeable and persistent challenges for managed care – whether it's managed Medicare or managed Medicaid. A nursing home could realize a lot of bad debt because it hasn't obtained authorizations for the correct dates; doesn't get them at all; or doesn't recertify in a timely manner. In this respect, PointClickCare's Authorization Tracking function is beneficial for…

Recording authorization details such as the level of care or carve-outs
Tracking payers that require admission authorizations and recertifications
Knowing when they're due, and when they might be overdue
Add-On Modules to Drive Efficiency, Productivity and Value in Your LTPAC
Integrated Eligibility Verification. This integrated feature allows providers to complete real-time eligibility verification of insurances. It also has the added benefit of a weekly batch upload to and automated response from insurance carriers so you can really track patients'/residents' insurance benefits and quickly identify if someone's insurance has been terminated.
CRM. This module allows you to input preadmission documentation. If eligibility verification currently is integrated into your PointClickCare system, you can utilize EV within CRM to confirm relevant insurance details or potential issues with coverage for the resident prior to admission. We find this feature particularly useful for skilled nursing providers so they can fully manage the pre-admission process. The CRM Dashboard provides helpful reports for providers to track referral activity.
Document Manager. This module enables you to embed admission agreements or other documents that are auto-populated by the resident record. It also becomes part of the permanent resident record within PointClickCare.
Related Article – Easing COVID-19 Burdens for Long-Term Post-Acute Care Facilities With No-Cost Solutions From PointClickCare
PointClickCare Scorecard – Perhaps as Underutilized as PointClickCare Itself
Generally speaking, LTPAC providers want to know how their clinical, operational and financial performance ranks relative to industry peers. After all, it's valuable insight. If you use PointClickCare, the EHR Scorecard, which is included in every client database, provides that insight, as well as visibility into your organizational performance without industry comparisons.
Essentially, the EHR Scorecard enables you to see how well your organization performs in certain components of the system (e.g., MDs, diagnosis, care plans, percentage of collections) as measured against your peers. The scorecard itself has a Dashboard and the ability to run two different reports:
The Percentile (peer comparison) report, which delivers a comparison of performance with a peer group based on U.S. state, number of beds, number of facilities or lines of business and will allow the user to run a Percentile Report as a comparison with those peers.
The Absolute Value report, which allows you to view your own utilization without the peer comparisons. It tracks your facility's performance on indicators such as census management, resident demographics, diagnoses management and MDS assessments, as well as your effectiveness in using certain clinical portions of the system. From a financial standpoint, it also tracks performance on outcomes—for example, percentage of occupancy, percentage of aged revenue, age of Medicaid-pending accounts, average length of stay, timeliness of collections and DSO by payer, which indicates how well your facility collects by payer type.
Embrace Built-In Work Flows for Maximum Value
One last thing: PointClickCare is built around work flow. One of the most serious – and often made – mistakes our PointClickCare Implementation Consultants see is when individuals within LTPAC organizations impose their own manual work flows onto PointClickCare, rather than adopting the work flow that's intrinsic in PointClickCare and changing their processes to fit it. We strongly recommend embracing these built-in PointClickCare work flows. Yes, doing so may necessitate an investment of time up front; but your people, your organization and those it serves will all benefit in the end.
Contact Richter PointClickCare Implementation Consultants
Do you have questions about optimizing PointClickCare for your long-term care, senior living or skilled nursing facility, implementing EHR in healthcare or skilled nursing settings, or any other EHR implementation challenges? Call Richter's PointClickCare EHR implementation consultants at 866-806-0799 to schedule a free consultation.
Want to stay on top of the ever-changing LTPAC industry? Follow us on social media: