---
Note: This is the third blog in our multi-part blog series on the CMS Requirements of Participation.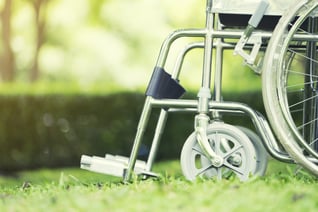 Nov. 28, 2019 is quickly approaching, and with that will come Phase 3 of the Centers for Medicare and Medicaid Services' (CMS') Requirements of Participation. As part of this, a fully integrated QAPI program will be required on this date. This should come as no surprise since some of the QAPI components should have already been implemented by your long-term post-acute care (LTPAC) facility, as stated below. This requirement is not going away and should be implemented soon rather than later.
Quality assurance and performance improvement (§483.75)
Requirements will be implemented in Phase 3 except for:
(a) (2) Initial QAPI plan must be provided to State Agency at annual survey (Phase 2)
(g) (1) QAA committee – all requirements (Phase 1) except subparagraph (iv)
(h) Disclosure of information (Phase 1)
(i) Sanctions (Phase 1) QAPI Program – Facilities must develop, implement and maintain an effective comprehensive, data driven program that focuses on systems of care, outcomes of care and quality of life
Address full range of care and service
Effective systems to identify, collect and use data and information from all departments, including facility assessment, to monitor performance
Plans must be actionable, measured and re-evaluated to ensure improvements are achieved and sustained
QAPI activities must include medical errors and adverse resident events
Let's take a moment to review the background of QAPI:
According to F520 (OBRA 1987), the purpose: of QAA is to provide a framework for facility to evaluate their systems in order to prevent deviation in and correct inappropriate care processes.
Section 6102(c) of Affordable Care Act (2010) state the purpose of QAPI is to strengthen a facility's capacity for data collection and analysis, strategy development, and action plans.
When developing your facility's QAPI plan, use the following outline:
Each facility's written QAPI plan should begin with the following:
This is the QAPI Plan for (Facility name)
Facility vision
Facility mission
Facility guiding values or principles
Purpose of your organization's QAPI plan
Program design and scope
List of services you provide to residents:

Address all systems of care and management practices
Include clinical care, quality of life and resident choice
Utilize best available evidence to define and measure indicators of quality and facility goals
Reflect the complexities, unique care, and services that you provide

Consider how each service area addresses:

Clinical care
Individualized goals and approaches for care
Quality of life
Resident choice
Safety
Regulations

Governance and leadership

Leadership actively engaged with setting expectations and priorities, including:

Systematic approach to gather input from staff, residents, families and stakeholders
Adequate resources—time, money, others
Ongoing and consistent staff training
Accountability for process and results
Balance culture of safety and rights
Non-punitive culture

Responsibility and accountability through the QAPI Steering Team

Executive leadership
Medical oversight
QA/QAA/QAPI Coordinator
Interdisciplinary
Include front-line staff

QAPI needs to be adequately resourced

Mandatory QAPI staff training and orientation
Framework for QAPI
Reporting QAPI activities
Fair and just culture

Feedback, data systems and monitoring

Systems to monitor a wide range of care and services drawing from multiple sources:

Data from staff, residents, stakeholders and others
Use of goals and benchmarks
Ability to analyze, interpret and translate data into meaningful and actionable information
Using data to systematically prioritize and select performance improvement projects (PIPs) appropriate for the nursing home

Performance improvement projects (PIPs)

Conduct PIPs to improve care or services in areas relevant for your residents:

Gather information systematically to clarify issues and identify opportunities
Test and implement changes
Data
Identifying topics
Prioritizing and selecting PIPs
PIP charters
PIP teams
Documentation and communication

PIPs: identifying topics

Aspects of care occurring most frequently or affecting large numbers of residents
Diagnoses associated with high rates of morbidity or disability if not treated in accordance with accepted standards of care (evidence-based research/practices)
Issues identified from demographic and epidemiological data
Access to care post-discharge
Resident/family expectations
Regulatory requirements
Availability of data
Ability to impact the problem and available resources
Critical incidents
Near misses
Safety concerns
Survey deficiencies scope and severity

Systematic analysis and systematic action

Create real impact and long-lasting improvement as the result of QAPI through:

Taking into consideration all aspects of the organization when making changes
Addressing errors at the systems level rather than looking at an individual to blame
Linking outcomes of QAPI efforts to policies and procedures; staff orientation and ongoing education; performance expectations; and strategic planning
QAPI self-assessment every 12 months
Resident satisfaction
Family satisfaction
Staff satisfaction
Root cause analysis

Five whys
Flow charting
Fishbone diagram
Failure mode and effects analysis (FNEA)
Other
Each LTPAC facility, including a facility that is part of a multiunit chain, must develop, implement and maintain an effective, comprehensive, data-driven QAPI program that focuses on indicators of the outcomes of care and quality of life. Phase 3 requires the reporting to the governing body. Also included in Phase 3 is the coordination of freedom of abuse and neglect with your QAPI plan and your inclusion of the Infection Preventionist in your QAA meetings.
Remember, it is always better for you to identify your own opportunities for improvement, rather than a surveyor. It will be in your best interest to share your QAPI information with the surveyor if you have already identified an issue they are looking at. In many cases, the surveyor will reduce the severity of the citation, and in some cases, they will not cite the facility at all.
With 2019 upon us, let's make QAPI everyone's New Year's resolution. Your QAPI program should be used in creative and innovative ways rather than just as a regulatory requirement. Encourage innovation through collaboration with state agencies and take advantage of resources available through Advancing Excellence in America's Nursing Homes.
Do you have questions about QAPI, Phase 3 Requirements of Participation or other clinical challenges? Call Richter's clinical education consultants at 866-806-0799 to schedule a free consultation.