---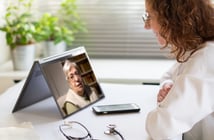 The ongoing coronavirus (COVID-19) pandemic has created many challenges for long-term post-acute care (LTPAC) providers. One of the most pressing is ensuring timely and safe (i.e., low-risk for infection) visits between practitioners and patients. Increasingly, telehealth – i.e., the delivery of health-related services and information via electronic information and telecommunications technology – is being used as a primary means to achieve this. In part, this has occurred due to recent regulatory changes that expanded telehealth's role in caring for Medicare patients across the health care continuum.
As background, there are four types of telehealth:
Real-time interactive systems (i.e., synchronous) which are live and interactive, often utilizing technologies such as videoconferencing to provide telehealth care.
Store-and-forward (i.e., asynchronous) which is the electronic transfer of patient health information to be used by a healthcare provider. Health information transmitted is not used in real-time and is reviewed later by a healthcare provider.
Remote patient monitoring (RPM) health data which is collected in one location and electronically transmitted to a healthcare professional in another location for monitoring and review.
Mobile health (mHealth) which uses smart devices and software apps to support healthcare such as monitoring blood sugar levels, weigh and more.
The Centers for Medicare and Medicaid Services (CMS) has created the following summary of Medicare Telemedicine Services:
By leveraging available telehealth solutions, LTPAC facilities could likely address health issues sooner and facilitate the treatment of patients where they are, rather than having to admit or readmit the patient to a hospital from an LTPAC.
Benefits of telehealth include:
Improved health outcomes/improved management
Reduction in hospitalizations and rehospitalizations from an LTPAC
Increased efficiency
Prompt access to healthcare providers
Increased healthcare provider engagement
LTPAC providers should embrace telehealth during the COVID-19 pandemic to help ensure access to high-quality health care for their residents. Many platforms for telehealth are available to LTPAC providers. Some telehealth solutions integrate with existing EHR software. LTPAC providers should select the telehealth solution best suited to their specific needs.
Below are some questions to ask when exploring potential LTPAC telehealth solutions:
Is there any proprietary/specialized equipment required, and if so, what is the cost?
Is there a limit to how many consults per month can be conducted, either resident or facility based?
Are there certain residents who the providers will not visit for any reason?
Who will be conducting the telehealth visits? Will there be a specific team for my organization or facilities?
Who is to sign the orders given via telehealth visits?

Does the solution integrate with the organization's current her? If so, what information is transmitted through the integration?

Who can request the telehealth visit (RNs/LPNs/residents)?
To aid you in promoting financial health for your LTPAC and other issues surrounding COVID-19, we have developed a COVID-19 Resource Center for skilled nursing facilities which will be regularly updated with the latest information.
Contact Richter's Skilled Nursing Facility Consultants
Do you have questions about telehealth, or other LTPAC clinical challenges? Call Richter's skilled nursing facility consultants at 866-806-0799 to schedule a free consultation.
Want to stay on top of the ever-changing LTPAC industry? Follow us on social media: