---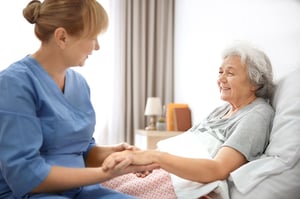 Trepidation, fear and confusion have all been experienced by minimum data set (MDS) coordinators and staff alike at various long-term post-acute care (LTPAC) facilities regarding selecting and/or having to code diagnosis for residents—especially upon admission. Some common questions include: "What do I choose?" "How do I know if it is the correct primary or admitting diagnosis?" "I'm not a coder—how do I know what diagnosis to choose?"
Coding the primary, admitting and co-morbidity diagnoses into the medical record has never been as important as it will be with the pending Patient Driven Payment Model (PDPM), slated for October 1, 2019. The primary/principal diagnosis per the Uniform Hospital Discharge Data Set (UHDDS) defines it as a "condition established after study to be chiefly responsible for occasioning the admission of the patient to the hospital for care". UHDDS definitions apply to all non-outpatient settings, including skilled nursing facilities (SNFs).
Here are some key points to remember when coding diagnoses under PDPM:
It is possible that the primary diagnosis for the SNF stay may be different from the primary diagnosis from the hospital stay.
If the purpose of the admission is rehabilitation, begin by sequencing the code for the condition for which the service is being performed. However, if the condition for rehabilitation services is no longer present (e.g., Cerebral Vascular Accident (CVA)), select the appropriate aftercare code as the principal diagnosis, unless the rehabilitation service is being provided following an injury.

Example: Regarding admission for rehabilitation for right-sided dominant hemiplegia following a cerebrovascular infarction, report code I69.351, Hemiplegia and hemiparesis following cerebral infarction affecting right dominant side, as the first-listed or principal diagnosis

Vague or non-specific diagnoses require clarification with the physician and must be documented in the medical record as having been clarified.
According to the International Classification of Diseases (ICD)-10 Clinical Category Crosswalk, there are 24,114 ICD-10 codes that will trigger "Return to Provider" status if used as the primary/principal diagnosis.
The admission/admitting diagnosis should be the condition that required the resident's admission to the SNF and the reason the resident needs care. It must be related to the resident's preceding hospital stay, and the hospital's principal diagnosis may not be the reason skilled care is needed. Additionally, SNFs should assign aftercare codes or a condition code with a seventh digit indicating subsequent care.
Comorbidities or secondary diagnoses also need to be coded not only for reporting purposes but they also help direct the care required by the resident via:

Increased nursing care and monitoring
Medications/procedures/ Treatments
Care planning

A diagnosis entered into the medical record should provide an accurate picture of the resident's current health status—thus the need to be kept up-to-date. If a diagnosis is no longer active, the diagnosis should be resolved. For example, if a resident admits with a history of Myocardial Infraction (MI), the staff may want it in the record. However; it should be entered and resolved or retired so that it shows in the history only. Identification of diagnoses via a review of the clinical record (e.g., transfer record, progress notes, most recent history and physical, discharge summaries, diagnosis and/or problem list, diagnostic reports, active medications) should be utilized once they are determined to be an active diagnosis and confirmed by the physician.
Diagnoses recorded in the MDS are only to include the "Active Diagnoses." Per the RAI definition, "active diagnoses" are those that are physician-documented diagnoses in the last 60 days that have a direct relationship to the resident's current functional status, cognitive status, mood or behavior, medical treatments, nursing monitoring, or risk of death during the 7-day look-back period." The physician- documented diagnoses can include a nurse practitioner, physician assistant or clinical nurse specialist, if allowed under state licensure laws, during the prior 60 days of the MDS assessment reference date.
With PDPM, each primary diagnosis is mapped to one of 10 PDPM clinical categories, representing groups of similar diagnosis codes, which is used as part of the resident's classification under physical therapy (PT), occupational therapy (OT), and speech and language pathology (SLP) components. The ICD-10 codes are used to capture additional diagnoses and comorbidities that the resident has, factoring into the SLP comorbidities that are part of classifying residents under the SLP component and non-therapy ancillary (NTA) comorbidity score used to classify residents under the NTA component. To make a long story short, your diagnosis entries have far-reaching effects, including financial implications, starting on day-one of a resident's stay.
Preparing for PDPM now will greatly improve your staff comfort and help ensure successful coding of diagnoses now and in the future. Here are a few steps to get you started:
Review frequently used primary/principal ICD-10-CM codes in your organization. Download the ICD-10 Clinical Category Crosswalk from the CMS PDPM webpage and discern frequently used codes which will trigger "Return to Provider" status on claims.
Work with your physicians and other health care practitioners to help ensure their documentation includes specific diagnoses to obtain the correct ICD-10 codes.
Your interdisciplinary team should have open communication with your physicians and other practitioners related to the importance of documenting specific and detailed primary diagnoses.
Provide education to staff documenting ICD-10-CM codes on the new requirements.
Provide opportunities for your staff to practice and perfect their ICD-10-CM coding.
Work to ensure your staff has access to a diagnosis code book and knows how to utilize it.
Helping your staff feel more comfortable in the diagnosis process will ease their fear, trepidation and confusion; it will enhance service to your residents; and it will positively impact your bottom line relative to PDPM.
Interested in learning more about how PDPM will affect your facility? Join us for our Nine Steps to PDPM Webinar Series. Click here to learn more.
Do you have questions about choosing diagnoses, or other clinical challenges? Call Richter's clinical education consultants at 866-806-0799 to schedule a free consultation.