In recent blogs, we outlined medical Medicare review strategies; probe and educate (PE); we explained Targeted Probe and Educate (TPE), Medicare's new medical review strategy; and we offered strategies for preparing and submitting TPE documentation. In this blog, we will share tips on navigating the TPE claims review process.
Upon receipt of your TPE documentation, medical records are reviewed within 30 days of the received date. This does not mean the claim will complete processing within 30 days—only that the medical record review will be completed within that time frame.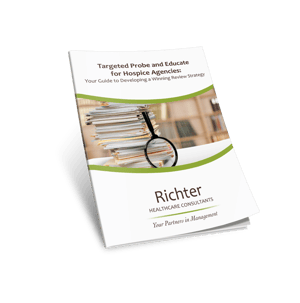 Once documentation is received, the claim transitions from status/ location S B6001 to S M50MR for review in Direct Data Entry (DDE). It is first reviewed for administrative documentation, then medical documentation.
If at any time during the process it's determined that documentation is missing, incomplete or insufficient, the review process will end without review of the remaining documents.
Document Review Phases – Technical and Eligibility
Generally speaking, the documentation review process includes two phases: Technical and Eligibility. A breakdown of each appears below.
Technical Review
This includes:
Beneficiary election statement (aka, notice of election)
Required elements include:
Hospice name
Effective date of election
Individual's (or representative's as applicable) acknowledgment of full understanding of palliative rather than curative nature of hospice services
Individual's (or representative's as applicable) acknowledgment that they understand certain Medicare services are waived by the election
Identification of the attending physician and acknowledgment that the identified physician was his or her choice
The individual's (or representative's as applicable) signature
All technical components of certification and recertifications
Applicable components that cover the period under review include:
Statement(s) of prognosis of six months or less
Narrative(s)
F2F(s) where applicable. Remember: A 30-day period under review may have two benefit periods
Remittance of certifications to cover both benefit periods
For longer periods under review, there may be more certifications
Plan(s) of care
Components include:
Initial plan of care developed before services were provided, so long as the period under review includes readmission
Every 15 days at a minimum
Send all plans of care which cover the period under review
All documents that make up the plan of care
Signatures or other documentation which show involvement of the Interdisciplinary Group (IDG)
Remember: The period under review may have more than one plan of care.
Signatures and signature dates
Signatures must be legible; if they are not, and were not signed over a printed name, the agency must include a signature log or attestation statement from the signer. Review MLN-Complying With Medicare Signature Guidelines. You can get more information on signatures and signature dates here.
Face-to-face
The face-to-face visit should be conducted no more than 30 days prior to the start of all 60-day benefit periods and no later than the first day of that benefit.
The nurse practitioner or certifying physician who completes a face-to-face visit must complete an attestation statement which includes the date the visit was made, as well as the practitioner's or physician's signature and date of attestation.
If the certifying physician conducts the face-to-face, (s)he must attest (generally on the Certification of Terminal Illness (CTI)) that the findings of the face-to-face were used in determining eligibility.
When a nurse practitioner or a non-certifying physician conducts the face-to-face, the attestation must include a statement that findings were communicated to certifying physician.
Note: A face-to-face visit is NOT a narrative replacing a physician narrative on the CTI.
Eligibility Review
This includes:
Medicare coverage guidelines
Documentation to support the services billed
General inpatient services
Continuous home care
Physician notes
Ensuring that face-to-face meets all applicable requirements
Note: Technical review must be passed first
TPE Outcomes
Once your claim is submitted, you can monitor its status in Direct Data Entry (DDE). The Medicare Administrative Contractor (MAC) has 30 days from receipt to review the claim, and the decision will be posted on the Fiscal Intermediary Standard System (FISS system).
There are three possible outcomes: payment in full (P B9997); partial payment (P B99997); and full denial (D B99997).
Related Blogs:
Medicare Medical Review Strategies
Understanding Targeted Probe and Educate for Hospice Agencies
Preparing and Submitting Your TPE Documentation
Contact Richter Healthcare Consultants:
Do you have questions about TPE, or other clinical challenges? Read our Targeted Probe and Educate for Hospice Agencies e-book or call Richter's clinical education consultants at 866-806-0799 to schedule a free consultation.
Donna Berry is the Revenue Cycle Manager for Home Health and Hospice with Richter Healthcare Consultants.

Want to stay on top of the ever-changing LTPAC industry? Follow us on social media: